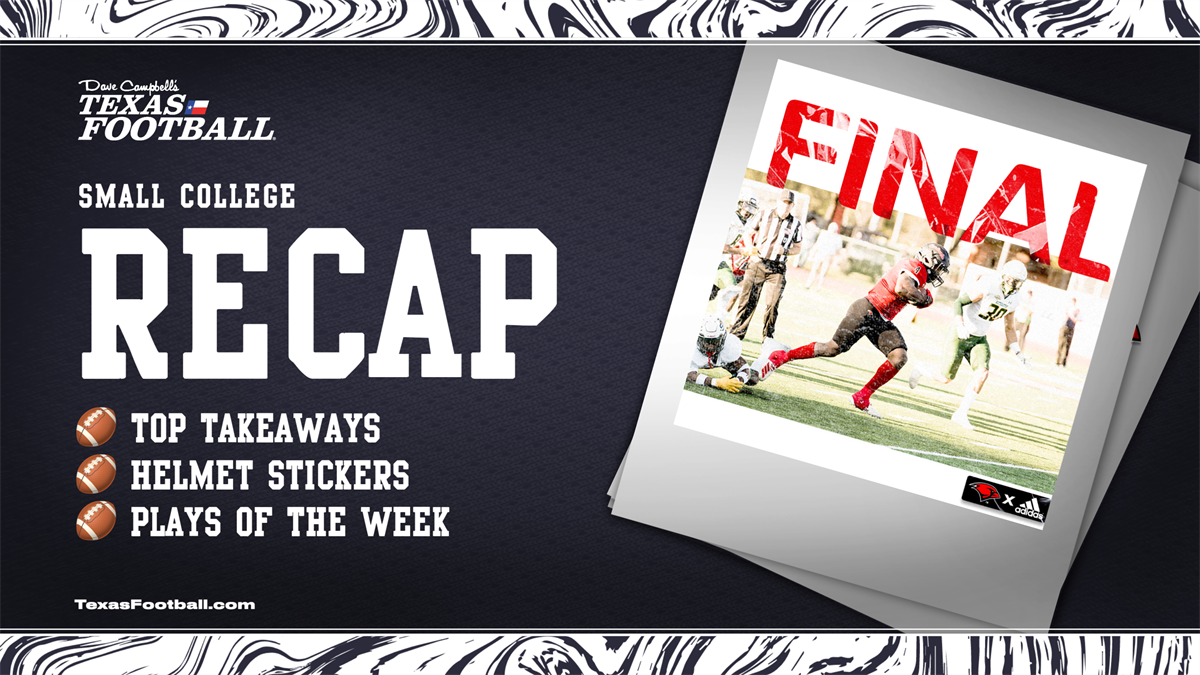 Trinity, UMHB secures playoff berth; UIW and Angelo State score big wins
The results fell into three separate categories, with so much at stake his week in the smaller college ranks this week. Let's take a look at which corresponds to each category with a week left in the regular season for the NCAA Division II and III teams.
Conference title and playoff spot guaranteed
There isn't much suspense left in DIII with a week left. Trinity continued their incredible season with a thrilling 28-27 road victory over Birmingham Southern.
The competition has been long, with the Tigers never lagging behind and never leading by more than seven points.
BSC scored a touchdown with 23 seconds remaining and chose to try the two-point conversion and victory. However, the pass to the end zone fell incomplete, giving Trinity her first Southern Athletic Association title.
The win also secured the Tigers an automatic playoff bid and is their first playoff appearance since 2011. Additionally, the SAA title is Trinity's first conference title since 2012.
No. 2 Mary Hardin-Baylor Also secured his automatic berth for the playoffs and the American Southwestern Conference title with a 59-14 victory over Howard Payne.
HPU took a 14-0 lead before Cru took control. At halftime, the game took a turn for the worse when a scuffle broke out along the Yellow Jackets sideline, resulting in each player from both teams receiving an unsportsmanlike conduct penalty.
Keep hopes alive
The DCTF Game of the Week turned out to be one of the best college football games of the season.
Word incarnate retained his conference title and playoff hopes with a captivating 55-52 victory over the No.6 in Southeast Louisiana.
The fourth quarter kept fans on the edge of their seats with four changes of lead in the final 11:22 of the game.
After SLU took a 45-42 lead with 11:22 remaining, Kevin Brown pulled in an 80-yard shovel pass to put the Cardinals back on top with 4:05 left on the clock. Cole Kelley led SLU down the field and took a 52-49 lead with 1:55 remaining in regulation.
It was too much time for Cameron Ward, who steered the Cardinals onto the field and found Robert Ferrel on a 24-yard touchdown pass with 25 seconds left in the fourth quarter and provided UIW with the 55-52 victory. .
Angelo State kept his playoff hopes and sent a statement to the Super Region Four committee with a dominant 30-3 win over Texas A & M-Commerce.
The Rams' offense started to roll after a scoreless first quarter. ASU tallied 30 straight points in the second and third quarters, with the Rams' defense sealing the win with a 46-yard intercept return for a touchdown from Andrew Pitts.
The path for UIW and ASU is simple, win and win a playoff bid. But rest assured, ending the season unbeaten won't be easy for either team.
Still anyone guesses
The Lone Star conference provided another day of crazy results. The day started with Texas A & M-Kingsville defeat UT Permian Basin 29-22 and finished with West Texas A&M drop # 21 Midwest State 15-12.
It was the Buffs' fourth straight home win over MSU and their seventh victory in their last eight games against the Mustangs at Canyon.
Here's where things stand with one week remaining in the regular season. MSU will be the LSC champion with a victory over UTPB at home next Saturday. However, a loss for the Mustangs combined with victories for Angelo State and Texas A & M-Commerce would leave MSU in a four-way tie with the Rams, Lions and Buffs.
This week's regional rankings could provide some clarity regarding the playoff image. On Saturday, Angelo State will be in the best position and secure a playoff berth with a victory at Texas A & M-Kingsville.
MSU is the big question mark right now and could be ruled out of the playoffs even with a win over UTPB and the outright LSC title. Division II no longer awards automatic offers, which could leave the Mustangs with no playoff spot.
The craziness of the Southwest Junior College Football Conference continued last Saturday with Kilgore defeat Tyler, Blinn falling northeast of Oklahoma A&M, Navarro beat Cisco, and Trinity Valley suffer a loss of route to the army of New Mexico.
Here's what we know: The NMMI is in the SWJCFC playoffs which start on Saturday. Kilgore and Tyler should be in the semifinals at 4-3, but four teams are 3-4 with only one playoff spot left.
The conference will release playoff seeds and semi-final pairs on Monday afternoon.
Helmet stickers
Cameron Ward, UIW
In the Cardinals' big win, Cameron Ward defeated defending FCS Player of the Year Cole Kelley of Southeast Louisiana. Ward completed 34 of 52 passes for 610 yards and seven interceptions.
Jacob Clarkson, Texas A & M-Kingsville
Clarkson had a monster day in Texas A & M-Kingsville's 29-22 win over UTPB. The senior defensive end finished with eight solo tackles, four sacks, forced two fumbles and recovered one fumble for the Javelinas.
JT Cavender, West Texas A&M
The Midlothian, TX freshman linebacker had an outstanding performance in the Buffs' victory over rival MSU, registering 20 tackles (15 solo), with one tackle for the loss, and forced and recovered a critical fumble. on the goal line to end a threat from the Mustangs.
Pieces of the week
Every week we scour social media to find the best plays. However, we are sure to be missing some amazing pieces from the 35 Texas Small College Teams, so we ask for your help.
If you find a great piece worthy of a nomination, use the hashtag #dctftopplays to make sure we notice it.
Here are the five best plays of week 10: