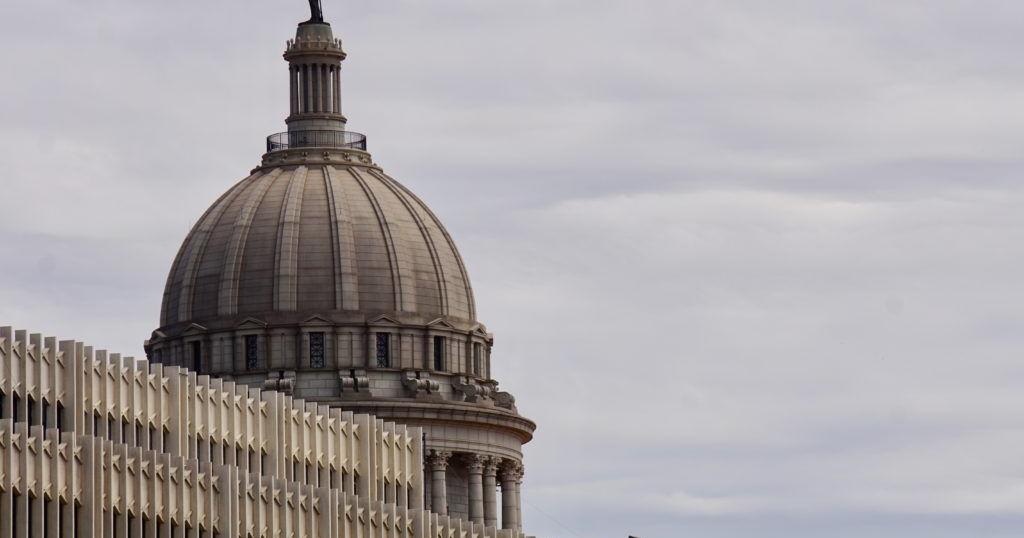 The Frontier: In the Oklahoma Legislature, a new wave of school curriculum bills | News
Oklahoma lawmakers introduced a series of bills this session to impose new restrictions on school curricula and teacher training, as well as to introduce learning materials from conservative groups into classrooms.
Senate Bill 1149 by Senator Micheal Bergstrom, R-Adair, and House Bill 4328 by Rep. Wendi Stearman, R-Collinsville, would require schools to post all professional development materials for the curriculum for teachers and students online, as well as disclose how the material was selected. Much of the wording in the bills comes from model legislation of the Goldwater Institute and the Manhattan Institute.
Senate Bill 1250 by Senator David Bullard, R-Durant, and Senate Bill 1174 by Sen. George Burns, R-Pollard, would prevent schools from offering additional credits or points for political activities or student lobbying. The bills also prohibit teachers from showing bias when discussing current affairs in the classroom. The bill would prevent teachers from being compelled to speak "about a particular current event or a widely debated and currently contentious issue of public policy or social affairs." The bills include verbatim language copied from the group's model legislation No left turn in education and the conservative group National Association of Academics.
Senate Bill 1508 by Bullard would require school districts to submit detailed reports to the state Department of Education on diversity, inclusion, and social justice training expenditures for teachers and administrators.
Senate Bill 1142 by Sen. Shane Jett, R-Shawnee, would ban the teaching of social-emotional learning in schools.
Senate Bill 1652 by Jett would require higher education institutions to post their budgets for the student and faculty diversity curriculum online.
Senate Bill 1654 by Jett would prohibit voluntary surveys in schools from asking questions about sexuality or gender and would prohibit libraries and school curricula from including books dealing with sexuality or gender.
Senate Bill 1125 by Bullard and Rep. Danny Williams, R-Seminole, would require schools to post teacher training and professional development materials online.
Senate Bill 1141 by Sen. Rob Standridge, R-Norman, would ban college requirements for courses unrelated to a student's primary area of ​​study dealing with gender, sex, equality or racial diversity.
Senate Bill 1169 by Standridge would require teaching "patriotic education" about Oklahoma's history in the form of the "1907 Project," a set of programs to be developed by House, Senate, and Governor appointees. It is copied from similar legislation in Texas.
Senate Bill 1401 by Standridge, labeled as the "Critical Race Theory Curriculum Elimination Act," would impose civil penalties of at least $10,000 on school personnel who teach classes related to critical race theory, require the employee to be terminated and blacklisted from teaching employment for at least five years.
Senate Bill 1102 by Sen. Nathan Dahm, R-Broken Arrow, would require social studies classes to teach at least 45 minutes every Nov. 7 on "Day for the Victims of Communism." The day, propose by libertarian law professor Ilya Somin, is also the subject of model legislation offered by the American Legislative Exchange Council. November 7 is the day of the "October Revolution" in Russia, designated as such because Russia at the time used the Julian calendar.
Senate Bill 1121 by Dahm would require schools to distribute historic Thanksgiving Day proclamations, all of which list the importance and role of the Christian faith.
Senate Bill 1382 by Dahm would add reading requirements for high school students that contain certain theological themes.
Senate Bill 1097 by Dahm would require the Oklahoma State Department of Education to contract for the curriculum for a four-year pilot project for 11th graders on history, government, and civics the United States. The bill closely tailors subjects to align with free courses in the high school curriculum of Hillsdale Collegea private Michigan school founded by Christian abolitionists in the 1840s.
Oklahoma has agreed to give electric vehicle maker Canoo $15 million over the next four years from the state's fast-action closure fund if the company meets its hiring and staffing goals. other goals.
While Canoo has announced its intention to create 700 new jobs including engineering and technology positions in Tulsa as part of its long-term plans, the company will only need to create 85 well-paying jobs in the city by 2024 and maintain 179 jobs there until in July 2027 to raise a $5 million tranche of the Quick Action Money.
While Canoo is a startup that has yet to turn a profit, the $15 million deal is the the largest the state has ever awarded since the Quick Action program was created under Governor Mary Fallin in 2011. The fund is intended for the governor to attract new employers to the state with cash payments.
The Frontier obtained copies of two contracts the company signed with the Oklahoma Department of Commerce for Quick Action money through an open documents request.
Canoo can raise up to $10 million in cash from the Rapid Action Closeout Fund to help build a new manufacturing plant in Pryor that could create 1,500 new jobs over the next decade, according to the first contract. The company will be able to raise the first $3 million after spending at least $48 million and completing 10% of the plant's construction. In order to raise the full $10 million, Canoo must complete construction of the plant and invest $450 million in the facility by July 2026.
The company is also required to repay the incentive money to the state if it does not start building the plant by January 2023, complete construction by July 2026, or fail to reach other performance goals.
Canoo can raise an additional $5 million in cash from the Quick Action fund to help create well-paying tech and engineering jobs in Tulsa, according to the second contract. The company said it plans to create 700 new jobs for software development, research, customer support and funding in the city. Canoo plans to create those jobs over the next 10 years, but will only need to hire 85 people by July 2024 and meet certain wage requirements to collect the full $5 million, according to the contract.
The jobs Canoo has committed to bringing to Tulsa must have average annual salaries between $85,000 and $125,000 for the company to qualify for incentive money.
Canoo is required to return the money if it does not meet its hiring goals and salary requirements by July 2027, according to the contract.
The company will also have to repay the state with interest and share profits if it sells its Tulsa business before meeting the employment and wage requirements set out in the contract.
During an earnings call on Monday, Canoo CEO Tony Aquila said the company won combined $400 million in incentives from Oklahoma and Arkansas to market its vehicles.
The company said in December that it plans to make between 3,000 and 6,000 electric vehicles this year, but a prototype model is still in the testing phase, the company said in an earnings statement Monday.
Details of other incentives offered by the state of Oklahoma from a package the company valued at $300 million remain unclear.
The Oklahoma Department of Commerce is not currently offering Canoo any other incentives outside of the $15 million rapid action funds, agency spokeswoman Amy Blackburn said Tuesday. But the company could be eligible for additional incentives after filing its Oklahoma taxes, she said.
Pryor's state-run MidAmerica Industrial Park also offered Canoo millions in incentives including free land and infrastructure.
The contractshttps://embed.documentcloud.org/documents/21298626-canoo-closing-fund-executed/?embed=1&responsive=1&title=1https://embed.documentcloud.org/documents/21298625-canoo-2 -closing-funds -contract-executed/?embed=1&responsive=1&title=1