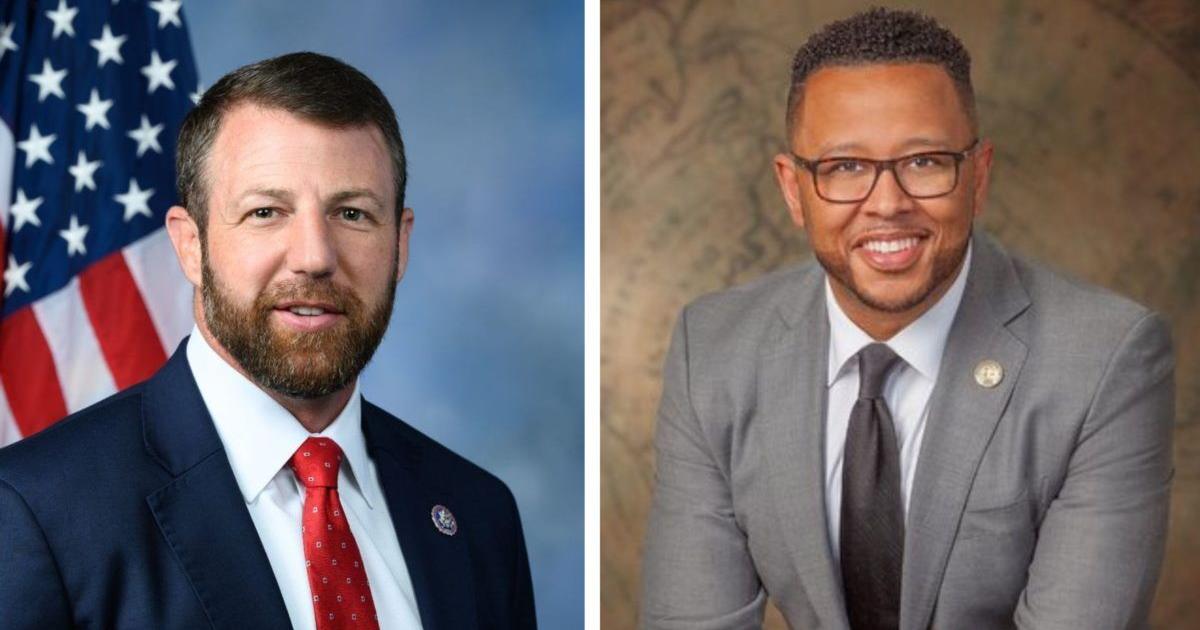 Markwayne Mullin emerges from the primary as the favorite to claim the seat of incumbent US Senator James Inhofe | New
August's GOP runoff for the U.S. Senate between U.S. Representative Markwayne Mullin and former Oklahoma House Speaker TW Shannon will pit two Trump loyalists against each other.
The winner will face Democrat Kendra Horn in November's general election and likely claim the seat of incumbent U.S. Senator James Inhofe. The last Democrat to represent Oklahoma in the US Senate was David Boren, who left office in 1994.
With 43% of the vote in the primary and a sizable fundraising advantage, Mullin is the favorite to win the Aug. 23 runoff. Mullin won 75 of Oklahoma's 77 counties.
By contrast, Shannon won 17% of the vote and only won Comanche County, where his district was located when he served in the Oklahoma House of Representatives from 2007 to 2015.
But Shannon still has a fighting chance, said Oklahoma political strategist and pollster Pat McFerron.
"Shannon is going to show why he's the better of the two," McFerron said.
In an interview, Shannon described himself as "anti-establishment" and the "first American candidate". He also said he signed a pledge to support legislation to implement term limits for members of Congress, which he said stands apart from Mullin.
"The reason I run is because I keep my word," Shannon said. "When I'm a senator from Oklahoma in the United States Senate, I'll keep my word on term limits, I think term limits are important."
When Mullin first ran for the U.S. House of Representatives in 2012, he promised voters he would only serve three terms, but ended up serving five terms before announcing his candidacy for the United States Senate.
When The Frontier asked about breaking his promise in March, Mullin said he had changed his stance as his "life experiences changed" and wanted to "be in the best position to serve the great state of Oklahoma".
Although Mullin has a strong notoriety, McFerron said that could put him at a disadvantage. Mullin's polls held steady, but he also failed to gain popularity, he said.
"You could say 55% of people didn't vote for him, even though he's better known," he said. "So he has a little challenge there."
Both Shannon and Mullin engaged in a debate hosted by News 9 on August 2 and in a number of forums ahead of the runoff election. Mullin missed the first U.S. Senate debate before the primary hosted by News 9 because of his congressional schedule, he said.
"We would like the opportunity to discuss real issues and who we are because there are drastic differences between my opponent and me," Mullin said. "(Including) our resumes, what we've done for the state, and what our life experiences are."
Shannon also said he was looking forward to debating Mullin for the first time.
"I will work to win the Oklahoman vote," he said. "I will show up at any debate in any form to win their vote because I think that's what you do. As an elected official, I will work for the people of Oklahoma; they won't work for me.
Although he spent nearly a decade in Washington DC, Mullin said in an interview that he thought Shannon had more political experience than he did.
"If you look at my opponent, it's obvious…he's served Oklahoma State well," Mullin said. "But, your career path is not supposed to be in politics. … If your identity is political, because it's your life, then there will also be decisions that you will make to ensure that you stay in that position.
Mullin, who owns a plumbing company, said that since he is a 'citizen legislator' he 'will do these (tough) votes and if it costs us our election I can go home and that's perfectly fine with me".
But, Mullin actually spent ten years in the US House, compared to Shannon, who spent eight years in the Oklahoma House of Representatives.
"I've worked in the private sector, I'm the CEO of a bank, my whole life story is American history," Shannon said. "I was 26 when I was elected MP. I was 33 when my colleagues elected me president. I've been an investment banker, I've been a business owner. and today I am the CEO of a community bank that only exists in the United States of America. »
Mullin is already far ahead of Shannon when it comes to fundraising. He raised $2 million and loaned himself another $1 million before the primary. Mullin also received help from wealthy donors such as the Hilliary family, owners of Hilliary Communications and billionaire Harold Hamm. U.S. House Minority Leader Kevin McCarthy, R-CA, also hosted a fundraiser for Mullin in Oklahoma City.
While Mullin led the primary by a wide margin, recent history has shown that doesn't necessarily translate to a general election win.
In 2020, Terry Neese got more votes than Stephanie Bice at the 5th Congressiona
l District GOP primary, but Bice won the second round.
In 2018, Mick Cornett got more votes than Kevin Stitt in the GOP gubernatorial primary, but Stitt won the runoff.
In 2018, Tim Harris got more votes than Kevin Hern in the GOP primary for the 1st congressional district, but Hern won the runoff.
In 2018, Dana Murphy got more votes than Matt Pinnell in the GOP lieutenant governor primary, but Pinnell won the runoff.
Over the next two months, the fight could get ugly with negative campaign ads and injections of outside money from well-funded political action committees on both sides, McFerron said.
"These are two candidates who both have long legislative histories that people can find fault with," McFerron said.