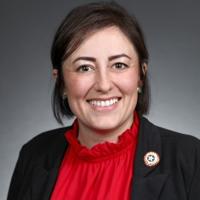 Column: From the Office of Senator Jessica Garvin | Opinion
Our family's busy summer began last month at Camp LuJo KISMIF, where my husband and I serve as a mom and dad dorm each summer for 150 campers and staff. This year was special because the three children were finally old enough to join us. It's always nice to unplug and reconnect with the friends I grew up with at camp, and to see our kids build those same relationships.
I attended the SelectUSA Investment Summit in Washington DC with Representative Nicole Miller, Department of Commerce and other economic development professionals from Oklahoma. This organization helps promote Oklahoma to foreign companies looking to relocate to the United States. Industry diversification is key to helping improve our state's economy. It was an honor to receive a scholarship to attend this conference and represent our great state. I visited businesses to learn why Oklahoma is the best place to do business and raise a family. I'm excited to be involved in the next steps for some of these companies as they plan site visits in Oklahoma and narrow down their list of potential business locations.
After the conference, our family started our summer vacation. Ever since I was little, I remember watching the National Mall fireworks display on TV and hoping to one day see it in person. This year, my wish came true. Independence Day started full of family at my brother-in-law's house just outside DC, a trip to Arlington National Cemetery to watch the Changing of the Guard Ceremony, and ended on the steps of the Lincoln Memorial, watching the fireworks with my family. I stood there, tears streaming down my face, surrounded by people of all races, religions and nationalities, speaking different languages ​​and being so proud to be American. There is nothing more humbling than hearing people's stories of their journey to this country and being on the steps of the Lincoln Memorial for their very first Independence Day celebration as an American citizen.
Last week we attended the Southern Legislative Conference at the new Oklahoma City Convention Center. Our legislature welcomed members from 14 other states and worked together to share policy concerns and solutions to issues facing this region of the country.
On Sunday at church, we heard from fellow Oklahoman Lt. Col. Dan Rooney, who is the founder of Folds of Honor, a nonprofit that provides college scholarships to children of fallen military personnel. and injured. His story of how God used him to bless others is inspiring. Since 2007, this amazing organization has provided nearly 24,500 scholarships. Learn more about FoldsofHonor.org.
I was also blessed by the story of Kelli Masters, from Oklahoma, who was the first professional sports agent to sign an NFL first-round pick in 2010. It was surprising how much my story candidacy reflected the challenges she was facing. predominantly male occupation. She really paved the way for women across the country. My only hope is that I can also inspire women to achieve whatever goals they set for themselves in life, no matter what obstacles they face.
Among our meetings, we learned how other state legislators are tackling various common issues in Oklahoma. Hopefully we can implement some of these policies here. I was chosen to represent Oklahoma, along with some of my legislative colleagues, on the Health and Public Safety Committee, where we discussed issues such as first responder mental health, substance abuse, and long duration. My husband was the co-coordinator of the SLC Youth Program and loved working with volunteers from all over Oklahoma to show children from out of state all that our beautiful city has to offer.
If you have any questions or concerns regarding legislative matters, please email me at [email protected] or call (405) 521-5522.