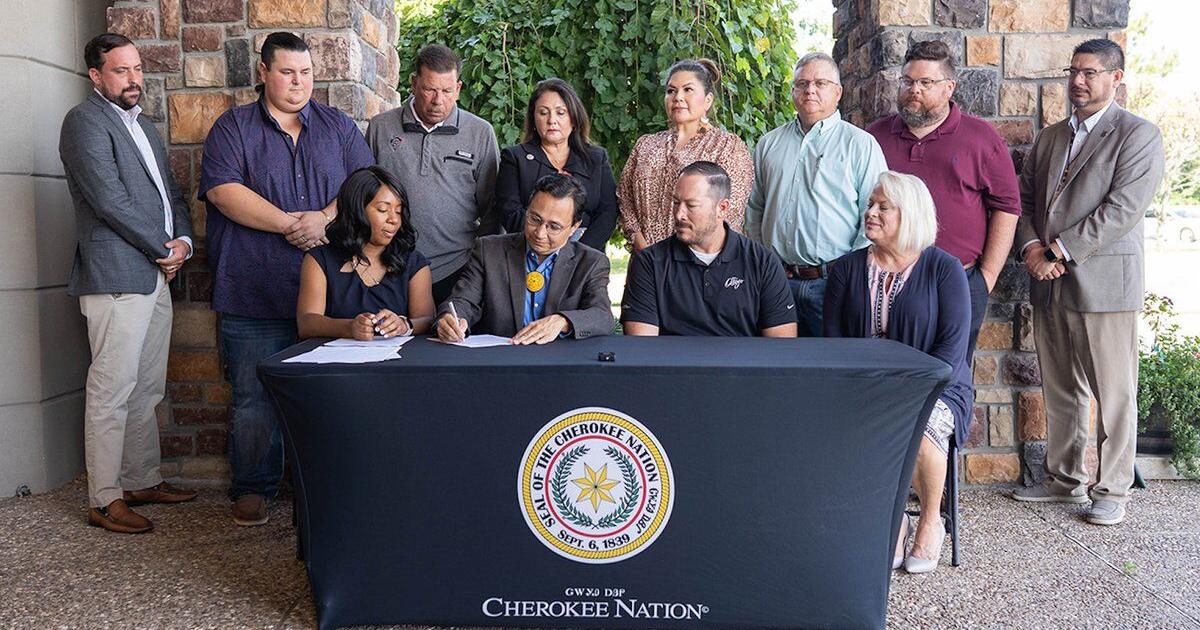 Cherokee Nation Signs $2 Million Deal With USDA Heir Property Restitution Program | New
The Cherokee Nation signed a $2 million loan agreement with the USDA on August 16 under the USDA Heir Property Restitution Program.
The USDA has made the $2 million loan available to the Cherokee Nation to lend to Cherokee citizens who are heirs to farmland and need help with property and estate issues.
The property of the heirs is the family land that has been passed on to the descendants without a will or deed proving ownership. Without proof of ownership, it can become difficult for heirs to obtain federal benefits for farms and could force third-party share sales. According to the USDA, heir ownership issues have long been a barrier for many producers and landowners to access USDA programs and services and the loan program provides access to capital to help heirs find a solution.
The Cherokee Nation Department of Commerce will oversee the Tribal Heir Property Loan Program by making loans available to help resolve title issues by financing the purchase or consolidation of real estate interests and financing costs associated with a succession plan.
"We meet families who have a barrier to prosperity due to unresolved land title issues, unprobated land titles or split interests and this is a way for us to help," Cherokee Nation Senior Chief Chuck Hoskin Jr. said at the Aug. 16 signing. . "We know our Cherokee families might be overwhelmed and need help resolving these types of heir ownership issues and we hope this loan program can help make that easier."
According to the USDA.
"For us to be able to mediate and be a doorway of opportunity for individuals to walk through and really grab the things our citizens need and turn to the valuable USDA resources will add great value to our families," said Deputy Chief Bryan Warner.
USDA officials visiting the Cherokee Nation on Tuesday, August 16 for loan closing included Raenata Walker, USDA Director of Direct Lending and Funds Management in Washington, DC; Drew Vandiver, executive director of the USDA Agricultural Services Agency of Cherokee County; Larry Daniel, Oklahoma Agricultural Loans Chief; and Jack Carlile, director of agricultural loans for the Cherokee County Service Center.
"Through this opportunity, heirs can formalize land ownership and inheritance issues, which have long kept so many people from accessing USDA programs and services," said Zach Ducheneaux, agency administrator. USDA Agricultural Services in a statement released on the redeployment program with Cherokee Nation. "The USDA is committed to revising policies to be more equitable and this program is a critical part of the effort to provide opportunities to bring and keep farmland into agriculture and to enable the country's producers to create generational wealth."
Cherokee Nation is one of the first three lenders in the Heirs Property Loan Program.
"I am excited about the program and believe there are many Cherokee citizens, farmers and ranchers in northeast Oklahoma who will be able to benefit and solidify land ownership issues and keep our farms. together and produce," said Anna Knight, Director of Commerce for the Cherokee Nation.
For more information on the USDA Heirs Property Relending Program, visit https://www.usda.gov/media/press-releases/2022/08/18/usda-announces-first-three-lenders-heirs-property-relending-program.
Eligible citizens of the Cherokee Nation can apply for the loan by contacting Cherokee Nation Commerce at 918-453-5536.