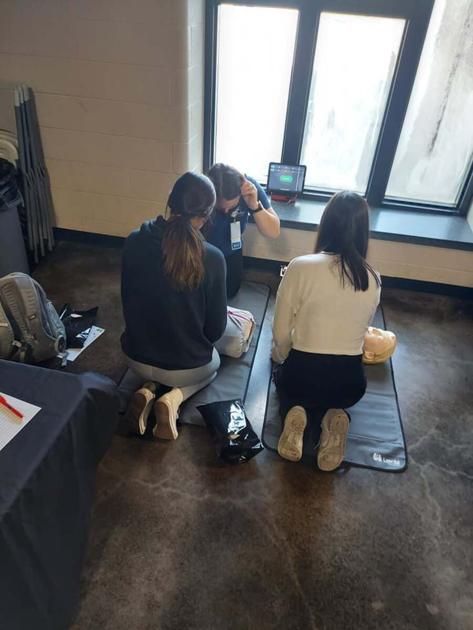 CAREER PATH: THS Chamber Partner for Annual Career Fair with New Incentives | New
Tahlequah High School and the Tahlequah Region Chamber of Commerce brought together students, businesses and organizations from the region on Wednesday, October 20 for their annual career fair from 9 a.m. to noon.
"What I love about the career fair is that I can help expose these young minds to all the jobs and avenues possible to help them access types of careers," said Jenn Garvin, responsible for membership and economic development for TACC. "It was really exciting to see them get excited.
Attendees included Northeastern Health System, Lake Region Electric Cooperative, Indian Capital Technology Center, Indian Capital Technology Center Health Careers, Northeastern State University, NSU Graduate Programs, T-Mobile, Air National Guard, NEO Health, BancFirst, East Coast Migrant Head Start Project, Oklahoma Rehabilitation Services, Stuteville Ford, Newk's, Everise, Riverhawk Nutrition, and Wild Turtle Nutrition.
Companies have done different things to engage students. The NHS brought in two CPR mannequins for the demonstration and played games with the students, while Stuteville Ford provided a black 2020 Ford Mustang for spectators to admire.
"I think they were really excited. It strained their ears. It showed the kids what they can do in this city, "Garvin said.
The career fair occupied 27 tables, which were filled with information, brochures and documents.
"ICTC brought in seven different tables because they had a lot of different programs," said Madeline Anele, TPS teacher. "Our students hear about ICTC, but they may not be familiar with the types of options they offer. "
Anna Haas, an ICTC recruiter, came to meet juniors, seniors and young graduates who want to further their studies. For juniors and seniors, they offer part-time programs in which they attend ICTC for half the day and high school for the other half. Those who have graduated from high school can attend part-time or full-time.
"It's a great opportunity for students to explore their career options while they're still in high school and find a good choice, while presenting them with different opportunities," Haas said. "We have 12 different programs at our Tahlequah campus, ranging from heavy equipment to hands-on adult nursing. "
They also have a new electrical program that allows students to earn their Oklahoma Journeyman Electrician's license.
The organizers of this event said fairs like these are important to the community because they remind students that they can have successful careers and achieve their goals without leaving home.
"A lot of kids think they have to move to have the life they want, when there are really a lot of resources and opportunities here. The career fair connects our students, who are exploring different avenues, with companies that need the next generation to keep them alive, "said Anele.