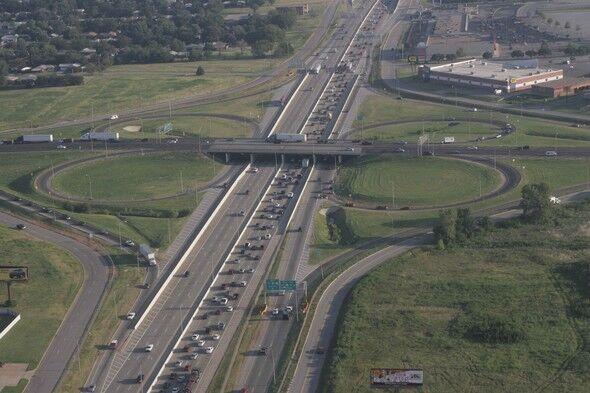 Almost $ 8 billion in improvements to Oklahoma's highway system | Community
With an influx of federal grants and additional state funding, the Oklahoma Department of Transportation is maximizing new dollars to plan more than 1,600 critical road construction and safety projects over the next eight years.
With more than 300 new projects added to the eight-year construction work plan for 2022-2029 approved on Monday, October 4, the department will commit nearly $ 2 billion more to road infrastructure and the state's economy. This represents a total impact of almost $ 8 billion by the end of the decade. The commissioners also approved a $ 484 million investment in preventive maintenance as part of the associated asset preservation plan for 2022-2025.
"Oklahoma really has a big push to get our highway system back to a manageable condition, and this year's update to the eight-year plan and asset preservation plan will help us continue to preserve and improve the system." of Transportation, "Oklahoma Secretary of Transportation and ODOT Executive Director Tim Gatz said. "We remain focused on maintaining Oklahoma's National Top Ten Status for Good Bridge Conditions and will continue our work by completing corridor improvements, adding shoulders to two-lane rural freeways and improving conditions on the road. pavement. ODOT greatly appreciates the continued support of the Transportation Committee, Governor Kevin Stitt, the Legislature, and our delegation to Congress in making these investments in Oklahoma's future possible.
With the restoration of $ 180 million in appropriate state funding and a planned 2023 increase in the annual cap for the Oklahoma Reconstruction Fund for Driver Access and Safety (ROADS) from $ 575 million to $ 590 million dollars, ODOT was able to budget for more urgent projects in this plan update. .
Additionally, Oklahoma is one of the first states to leverage the U.S. Department of Transportation's Federal Transportation Infrastructure Funding and Innovation Act (TIFIA) Rural Project initiative to accelerate projects. two-lane rural improvement already included in the eight-year plan. Using low-interest TIFIA loans helps increase Oklahoma's funding to add more projects to the plan.
Another benefit of the plan was that the department secured over $ 72 million in additional federal grants to increase capacity in FFY 2022 at I-40 and Douglas Blvd. near Midwest City and to rebuild the US-281 Bridgeport Bridge at the Canada / Caddo County Line – one of the state's main Route 66 attractions. Oklahoma is also benefiting from a $ 50 million grant obtained by the Texas Department of Transportation to improve I-35 on the Red River.
FFY 2022-2029 Eight year construction work plan
Almost $ 8 billion in total investment
1,657 projects in total
Address 685 bridges through rehabilitation or replacement, including the last remaining structurally deficient bridges
Almost 2,296 miles of road improvements, including over 1,013 miles of safety improvements on two-lane highways with poor or no shoulders.
Asset preservation plan for fiscal year 2022-2025
$ 484 million total investment
349 projects in total
Rehabilitation of 168 road bridges
Almost 1,200 miles of pavement resurfacing
Important urban projects in the eight-year plan include:
Oklahoma City: advancing approximately $ 90 million in combined projects to complete the reconstruction of the I-35 / I-240 Crossroads interchange;
Oklahoma City: Additional improvements estimated at $ 20 million to the I-40 / I-44 interchange were added in FFY 2029, among several other projects planned for the region;
Oklahoma City: $ 48 million in upgrades to the SH-152 / I-44 / I-240 interchange added in FFY 2029;
Tulsa: an additional phase estimated at $ 20 million of I-44 / US-75 interchange improvements added in FFY 2029; and
Lawton: Estimate of $ 16 million in operational and access improvements to US-62 and Goodyear Blvd. in partnership with the City of Lawton added in FFY 2025.
Important rural projects in the eight-year plan include:
Washita Co.: US-183 four-lane project from SH-55 to Rocky in Cordell, estimated at $ 22 million, advanced to FFY 2022.
Garfield Co.: US-412 / US-64 resurfacing between Enid and I-35 for an estimated amount of $ 9 million in FFY 2029;
Love Co.: Purchase of right-of-way and relocation of public services from EFY 2029 for the future widening of I-35 near Thackerville;
Marshall Co.: realignment of the US-70 at Madill, estimated at nearly $ 50 million with the first right-of-way project scheduled for fiscal 2022; and
McCurtain Co.: Interim traffic light project at four key locations on US-259 between Hochatown and Broken Bow, $ 1.5 million planned for FFY 2022, followed by two other major reconstruction projects in this area for FFY 2024 and FFY 2028 for an estimated amount of $ 42 million.
The updated eight-year plan and accompanying asset preservation plan addresses the remaining structurally deficient bridges and hundreds of older bridges in fair condition, which will keep Oklahoma's highway bridge system in a manageable state. In August, Oklahoma ranked 7th nationally for road bridges in good condition, dropping from 49th place as low as in 2004. Thanks to improved state funding by the legislature and the Commitment to prioritize critical needs in the eight-year plan, the department reduced the number of structurally deficient bridges to 67, or less than 1 percent, of the state's 6,800 highway bridges.
Since 2003, the eight-year plan has provided the public with a transparent view of planned road projects and is updated annually to balance many factors, including conservative projections for state and federal funding, critical needs and timelines for pre-construction projects. The asset preservation plan focuses on key publicly funded maintenance projects to extend the life of pavements and bridge structures. The public can view both plans by year and by district map at www.odot.org.